The two veterinarians at All Creatures Great and Small, Dr. Sabra Thomas and Dr. Justin Vaughn, work with support staff members who are cross trained as receptionists and veterinary technicians/assistants. You will be seeing the same people every time you come in our doors and talking to the same people every time you call the clinic. We all participate in making your pet's visit to our facility as stress-free and safe as possible. All staff members participate in ongoing education and have differing areas of expertise. And of course we cannot forget about our "greeters" – Vladimir and Sunshine, who are ready and willing to address your every need!!
Our Doctors
Dr. Sabra Thomas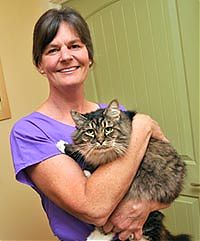 Dr. Thomas graduated from Oregon State University with a Doctor of Veterinary Medicine degree in 1997. She has worked as a vet in the Corvallis and surrounding area since graduation, both in mixed animal medicine (pets and farm animals) and emergency small animal medicine and surgery.
She has lived in Corvallis since 1984, on the same piece of property where the clinic is now located. Her first job in this town was at Anderson's Sporting Goods where she was in charge of the backpacking/mountaineering department. She worked there for 3 years prior to obtaining a job at the Corvallis Fire department as a Firefighter/ Paramedic. She worked at CFD for 6 years before finally pursuing her passion in veterinary medicine. Her current animal family consists of two horses, a pony, several cats and a dog.
Dr. Justin Vaughn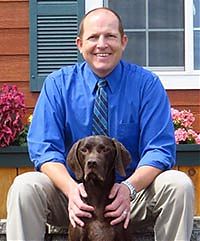 Dr. Justin Vaughn joined our medical team as an Associate Veterinarian in 2014. Originally from Hamilton, Montana, Dr. Vaughn attended the University of Idaho and graduated with his bachelor's degree in molecular biology and biochemistry in 1999. He then went on to earn his Doctorate of Veterinary Medicine from the College of Veterinary Medicine & Biomedical Sciences at Colorado State University where he graduated in 2003.
After graduation, he worked three years in a mixed animal practice on the Oregon Coast. Wanting to follow his interest in emergency medicine he accepted a position as an emergency veterinarian. However, he began to miss the bond a general practitioner forms with his clients and their pets. So, after 6 years in the emergency realm, he returned to day practice and has been there ever since.
Dr. Vaughn is a member of the Veterinary Emergency and Critical Care Society, American Veterinary Medical Association, and the Oregon Veterinary Medical Association. His professional interests include emergency medicine, soft tissue surgery, and geriatric medicine.
His hobbies include fishing, SCUBA diving, cooking, gardening, and doing just about anything that gets him outdoors. At home, Dr. Vaughn enjoys spending time with his wife Cassie, daughter Piper, two dogs, Carter and Coleman, and his cat, Kitten Kat.
Our Staff
Bobbi

Bobbi was born and raised in Oregon near Newport and came to Corvallis in 1997 to attend college.
She fell in love with the valley and never left. She has been working as a Veterinary Technician for several years and has loved every minute of it. Caring for animals has been a lifelong passion of hers. Bobbi spends most of her spare time riding her horses and enjoys doing some horse and dog rescue work as well.
Bobbi's 4-legged family consists of four horses, two dogs and three cats. Through her rescue work she takes in a lot of foster animals so from time to time you can find other critters in her barn as well such as lambs, donkeys, chickens, etc.
Haley
Haley was raised in Philomath, Oregon and has spent her entire life loving and caring for animals. As a youth she actively participated in 4H, and has extensive experience raising a wide variety of animals. She graduated from Brigham Young University in Idaho majoring in Veterinary Technology, and is thrilled to be working with Dr. Thomas and the wonderful staff at All Creatures Great and Small.
In her spare time she enjoys painting, crafting, tennis, volleyball, camping, hiking, dancing, and spending time with her husband, Todd, and her energetic dog, Odyn.
Ali

Ali is a Pactific Northwesterner born and bred. Although born in Washington, she moved to the Willamette Valley at age 10 and hasn't left since! After graduating from OSU with a Vocal Performance Degree in Opera, Ali illogically (but luckily!) found the job she always wanted when she began working at All Creatures Great and Small. She is currently taking classes and working toward becoming a certified Veterinary Technician.
On her days off you can usually find her at a dog park with her two pups Booth and Henry, putting her degree to good use with the Corvallis Repertory Singers, or at a coffee shop browsing the local shelter websites trying to pair up all her friends with homeless fur-babies. Having owned everything from Goldfish to Great Danes (and most things in between…), she loves all shapes and sizes of animals and plans to rescue as many as she can in her lifetime.
Krystal
Krystal is a student at Oregon State University where she is pursuing a degree in Animal Science. She would like to one day become a large and small animal veterinarian. Her hope is to one day have a rehabilitation and therapy center for animals and children. Though Krystal is new to the veterinary field, she has an affinity for all animals and is eager to expand her knowledge.
She lives in Corvallis where she shares a home with her boyfriend, Padraic, three dogs (Dakota, Widget, and Pepper) and two cats (Baby Boots and Bumper). In her free time she likes reading, crafting, gardening, hiking, biking and anything else that allows her to spend time with her furry friends.
Emily

Emily is a native Oregonian who has worked as a receptionist for several years, focused most recently on the veterinary field.
With her lifelong love for animals, Emily even convinced her parents to help her create her childhood bedroom with a dog theme, wallpaper and all! In her spare time she enjoys reading, hiking with her dog Gus, swimming and camping.
Leslie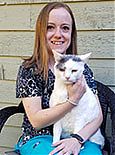 Leslie is originally from Virginia but has been proud to call the Pacific Northwest her home for the last 10 years. She joined the ACGS team in January 2016. She spent her first few "adult" years as a music educator upon Graduation from Marshall University (Go Herd!) but it was after she moved to Oregon that she found her true passion: working with animals. She has worked in the veterinary field since 2009, including several years in emergency medicine, and is thrilled to continue her journey at All Creatures Great & Small Veterinary Clinic. Leslie shares her home in Corvallis with her fiancé Jason and her four cats Stinky, Xander, Cordelia & Willow. In her spare time she enjoys gardening, reading and dining out at fun, new places!
Amanda
Amanda joined the ACGS team in February of 2016. Originally from Virginia, Amanda has been a lover and advocate of animals since she was a little girl. As a young adult she moved to Canyon, Texas, to pursue her dreams of "living out west" and worked doing guided horseback rides thru the Palo Duro Canyon. Amanda moved from Texas to Oregon in 2006 and joined the world of veterinary medicine in 2009, working for a mixed animal practice. In her free time she enjoys camping, horseback riding, fishing, working on her small farm and most importantly spending time with her family, which consists of her husband Justin, two stepsons, four horses, four dogs and four cats.
Our Feline Staff
Vladimir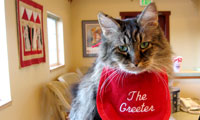 Vladimir is our "greeter!" Vladimir was a stray kitty that needed a home. I took him in when I opened the equine boarding facility in 2006. He was going to be my barn kitty and catch mice. However he really never wanted to leave the tack room and I never did see him with a mouse. When the vet clinic was being built, he decided to leave the barn and claim the reception desk as his own, even before the walls were finished! I don't think he has ever left his spot atop our reception desk, thus fullfilling his job as our greeter! He always makes himself available to pet, unless his hunger pains overcome him in which case he has clocked out and is waiting at his food bowl.
Sunshine a.k.a. "Sunny"
(seen here, multitasking, keeping an eye on Vladi and the front counter at the same time…) Sunshine and Autumn are the "chief mousers". You will see Sunshine, the big orange kitty, in and out of the clinic all day, letting us know just how hard he has been working in the fields. Occasionally he will come in and take a nap…such hard work out there catching all the field mice!!!! Both Sunshine and Autumn arrived on the property 1 day after Vlaidmir (I thought he needed some company). Both were only 4 months old and at first Vladimir hated them! But after only 1 week, he was actually letting them nurse on him in order to keep them out of trouble!
Autumn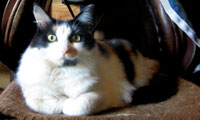 Autumn is the big calico who has taken on the job that Vladimir left when he started work at the clinic. She keeps the hay and tack room clear of mice and catches them before they run under the stalls and scare the horses!


Leon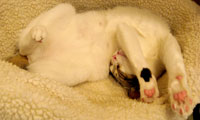 Leon is the "bug getter". Any bug that makes its way under the doors are arrested in their tracks. He also loves a shoulder, so if you are having a bad day, he will happily crawl on your shoulder and rub his face on your neck. He came into our clinic 2 years ago as a tiny kitten. He had a rough start to life with his eyes stuck shut. For the first 2 months of his life he was blind, but after several surgeries, he is able to see fine, but his tear ducts don't work, so he has chronic discharge around his eyes and sneezes alot!! The other kitties accepted him, so he was eventually given a permanent home at the clinic.