2002 —- June 4, 2018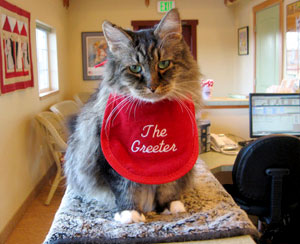 Vladimir was a stray brought into Willamette Veterinary Clinic back in 2006. He came in under the Good Samaritan fund where animals were given a name starting with the letter they came in under. This kitty came in under V, so his name was chosen. He was a few years old or maybe older, appeared a bit rough and had a bit of an attitude with some people so he was not the first one people chose to adopt. He was at Willamette for about a month and was due to go to the Humane Society. I had just erected a horse boarding barn on my property and felt sorry for him so I figured I would give him a home in the tack room and a job as a mouser.
Twenty-four hours after I brought him home someone from the barn brought me 2 kittens. Vladimir showed his disdain at the thought of rooming with these kittens but after a week he was actually allowing them to nurse on him and would protect them with a vengeance. Those kittens are 12 years old now and still consider Vladimir their dad! Well, Vladimir never did catch a mouse and really wasn't thrilled with the thought of leaving the tack room, that is…until I started to erect my veterinary clinic next to the barn. Before any of the walls were finished or windows were in or floors were done he ventured over one day and sat on a partially finished roughed out reception desk, claiming it as his own. After all, a kitty of his stature deserved better than a tack room, right? He never left the spot and made it his home for the remainder of his life. . From the first day All Creatures Great & Small Vet Clinic was open he would see someone come through the door and get up from his kitty blanket and go to the end of the counter and greet them. We had 3 bibs made for him that he proudly wore each day—one was labeled "The Greeter", another "Chief of Surgery" and yet another "Complaint Department".
Countless thousands of hands have literally touched him as they walk through the doors of the clinic and he so patiently listens while everyone tells him their story. He has always taken his job very seriously, only clocking out and getting down from his position to go eat or perhaps use the bathroom. He has called in sick only twice in his career and when he was not on the counter, everyone wondered where he was and if he was ok. He is among the best employees I have ever had. Even when we were closed, he was at his station. The bibs gravitated into outfits—a pumpkin sweater for Halloween, a Santa outfit for Christmas, a sequined bow tie for Valentine's day….and on and on. He wore them proudly, even purring while he is dressed in them. We had clients that came in just to see Vladimir, one even giving him a massage that he felt he deserved, and in return Vladimir would start up his diesel engine sounding purr. He never turned anyone away and even put up with people setting their little dogs up next to him and in one case a bunny. He obliged the bunny by giving it a bath. Vladimir was very sensitive to the cries of another cat or a dog. He had been known to get off his perch and run to treatment area of the clinic if he hears a kitty or dog in distress, making sure we were doing our jobs correctly and abiding by the veterinary oath of doing no harm. He has sat on the floor with pets and their people as their beloved best friend is euthanized. In his older age Vladimir was not so quick to jump up when someone walks through the door. Diabetes has taken its toll. However he patiently remained at his post waiting for the next person to walk in and run their hands over him. When he started falling off the reception desk, we made a little bed for him on a stool in my office just behind reception, where he could still see people.
I know there are a lot of great cats out there, but as I sat at my desk each day and went about my job, I gave great reflection to Vladimir, admiring him from a distance, realizing that I should count my blessings now, as I know I will never have another one like him.